Robotic automation tends to raise concerns about robot programming, teach pendants, entering part information and other complications an operator could face. Questions we encounter include:
What if I don't know anything about programming a robot?
How hard is it to change the grippers?
Do I have to input numbers?
We designed the DC to make part setup simple and easy. You can set up the machine within a few minutes with no teach pendant, no robot programming skills and no need to input any numbers. Here's how:
Adjustable Templates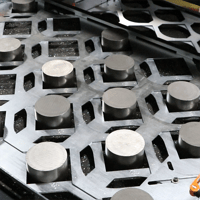 The Load & Go DC comes with four drawers, each fit with adjustable templates to allow for easy loading and unloading. As the diameter of your parts changes, simply closing the template maintains a common workpiece position, eliminating the need to update the robot's programming. Similarly, as the height of your parts change, the robot uses a torque skip function to automatically make adjustments to the program without the need for any input from the operator.
Easy-to-Use User Interface
We designed our user interface to be as user-friendly as possible. It doesn't get easier than selecting pictures for part setup, so the UI uses a series of pictures to direct you through the entire setup process in one minute: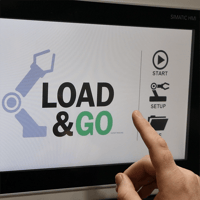 Part shape – rectangular or round stock?
Spindles – loading the main spindle or sub-spindle?
Grippers – is the robot grabbing the part's OD or ID?
Air blow – enable or disable air blow in each spindle?
Dual part handling – will the robot be handling two parts simultaneously?
That's it! No numbers and no programming. Once you have your part in the system, only the grippers are left to set up.
Adjustable Grippers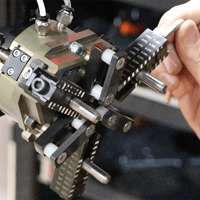 The DC grippers are easy to adjust and require only an Allen wrench. You can set the gripper pins to grip the part's OD or ID, and that's all there is to it.
Set the robot to its service position.
Adjust the load gripper pins (the side with the spring plate).
Adjust the unload gripper pins.
Robotic Machine Tending Made Simple
The Load & Go DC is designed to allow quick part changeover and eliminate wasted time and labor. From freeing up an existing machinist to running a night shift, the Load & Go DC is the easy automation for your high-mix, low-volume shop.
If you think the Load & Go might be a good fit for your operation, we will gladly provide a demo of the Load & Go running your part.