Reduce Labor Cost
According to the Bureau of Labor Statistics, American workers are reaching their capacity for output, meaning that as shops struggle to find and retain skilled labor, they lose the ability to compete with offshore markets. The more jobs are sent offshore, the lower your profit margins. The easiest way to reduce labor cost is to add automation to your process. A machine tending robot will complement and improve the production capabilities of your machinists, allowing you to breach the output ceiling and maximize profit for your business.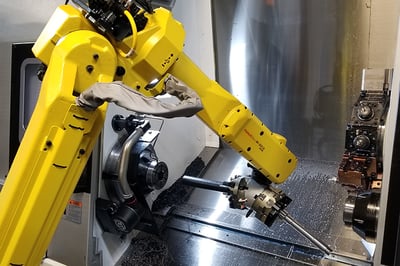 Machine tending can prove to be dangerous for your employees in the long run. Repetitive lifting motions leave your workers prone to potential injury. This hurts your employees, your production, and your bottom line. Instead, free them up to focus on more important things, such as process optimization and product quality. By removing them from mundane, repetitive tasks and allowing them to grow professionally, you will see a drastic improvement in production.
ROI for robots is quick to achieve, usually within two years. Machine tending robots can operate 24/7, so lights-out manufacturing can actually be an achievable goal. A robot performs a repetitive task with no breaks, time off, or risk of injury, which will allow your business to thrive, decreasing production cost and increasing your bottom line.