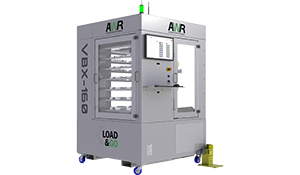 Dayton, OH – Automation Within Reach is proud to announce the addition of the VBX-160 to its product line. Using MultiGrip™ technology from VersaBuilt, the Load & Go VBX-160 delivers easy-to-use, accurate, repeatable, and reliable automation for all shops, particularly high-mix, low-volume manufacturing. Designed for multi-operation milled parts, the VBX160 with VersaBuilt Multigrip workholding makes the transition from handloading to automated loading easy, intuitive, and affordable.
A product of Dayton, Ohio based Automation within Reach, the Load & Go VBX-160 is simple to install and operate, using an intuitive easy-to-use interface that eliminates the need for advanced programming skills. The Load & Go VBX-160 is a compact and self-contained unit; the installation consists of simply locating the unit opposite the door of the CNC machine it tends. The system pivots away for easy access to the CNC machine.
The Load & Go VBX-160 will be introduced during Gosigerfest 2019 held at Gosiger, headquartered in Dayton, Ohio. AWR will begin taking orders in September 2019 with delivery in the first quarter of 2020.
To learn more about Load & Go product lines, visit www.automationwithinreach.com or email: info@automationwithinreach.com.